Maximum Strength
250 mg of Grapefruit Seed Extract with Echinacea, Astragalus, Vitamin C, Mushroom Extracts, Goldenseal, and Ginger Root
Vegan • Gluten Free • Made without GMOs
NutriBiotic® DefensePlus® Tablets are a unique formulation combining grapefruit seed extract, vitamin C, echinacea extract, astragalus, ginger root extract, goldenseal extract, yarrow extract, and the mushroom extracts of reishi, maitake, and shiitake and are used by healthcare professionals worldwide.
Each tablet is equal to 25 drops of the Grapefruit Seed Extract Liquid Concentrate.
Grapefruit seed extract 250 mg, Meta-C® (spirulina-bound calcium ascorbate), echinacea angustifolia extract (4:1), astragalus, reishi mushroom extract (4:1), maitake mushroom extract (4:1), shiitake mushroom extract (4:1), ginger root extract (6:1), goldenseal extract (6:1), yarrow extract (6:1), zinc (gluconate), microcrystalline cellulose (binder), magnesium stearate (vegetable lubricant), and natural food glaze coating.
Made without soy, milk, egg, yeast, wheat, sweeteners, and preservatives.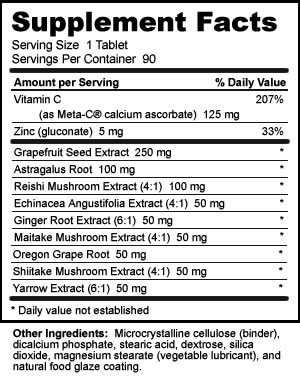 At first signs of imbalance or depressed resistance, take one tablet daily with or without meals for two weeks. Not recommended for children under 12 years of age.
WARNING: Keep out of reach of children. Do not exceed suggested use or use during pregnancy without consulting a licensed healthcare professional.
DefensePlus 250 mg GSE: 90 tablets