Echinacea is known and respected as a primary immune stimulating and strengthening herb.
Echinacea
Latin name: (Echinacea species) Other names: Coneflower, Rudbeckia, Sampson Root. Used to boost the immune system and fight infections, but only the purpurea and pallida varieties have been definitively proven effective.
A remedy for bronchitis, colds, cough, fever, sore throats, and for those with a tendency toward infection.
There are three types of Echinacea: Echinacea purpurea, Echinacea pallida, and Echinacea angustifolia. All are used to boost the immune system and fight infections, but only the purpurea and pallida varieties have been definitively proven effective. In the purpurea plant, the leaves appear to be the most effective part. In the pallida variety, it's the root that works best.
In addition to the conditions listed above, the purpurea variety of Echinacea is considered an effective treatment for urinary tract infections and poorly healing wounds, skin ulcers, and burns. The root of Echinacea purpurea is used to reestablish the supply of white blood cells following cancer treatments, and to supplement other anti-infection drugs.
In folk medicine, the angustifolia variety of Echinacea is widely used for conditions such as wounds, burns, swelling of the lymph nodes, insect bites, stomach cramps, measles, gonorrhea, and snake bite. However, its effectiveness for these conditions has not been proven.
What It Is; Why It Works
As a natural buttress to immunity, Echinacea has become one of the hottest items in the current herbal renaissance--and its reputation is not unwarranted.
Researchers have found that an extract of Echinacea purpurea leaves provides significant relief from symptoms of the common cold. Likewise, an extract of Echinacea pallida root has been shown to shorten flu symptoms by as much as four days. (Unfortunately, taking the herb to prevent initial infection doesn't seem to work.)
Echinacea owes its effectiveness to a proven ability to stimulate the immune system. Researchers have found that it causes an increase in the number of white blood cells, spleen cells, and other disease-fighting agents such as T-helper cells and interleukin. It also has an interferon-like effect on viruses.
Originating in North America, Echinacea was used by the Sioux tribe for snakebites, and by other Native Americans as a general antiseptic. It is now cultivated in the United States and Europe. Its taste is slightly sweet, then bitter, leaving a tingling sensation on the tongue.
Avoid If...
Because of Echinacea's effects on the immune system, you should not take this drug if you have multiple sclerosis, AIDS, tuberculosis, leukemia, and autoimmune disorders such as rheumatoid arthritis and lupus.
Do not take Echinacea injections if you have an allergy to the plant. Avoid them, too, if you have diabetes; they can upset the balance of the metabolism.
Special Cautions
You should not take Echinacea for longer than 8 weeks.
Echinacea does not have side effects when taken orally at customary dosage levels. However, when Echinacea extract is given intravenously it can lead to fever, nausea, vomiting, and very rarely an immediate allergic reaction with itching, rash, facial swelling, breathing difficulties, and dizziness.
Possible Drug Interactions
Because of its stimulating effect on the immune system, Echinacea should not be combined with drugs, such as Neoral, that are given to prevent rejection of organ transplants.
Special Information
If You Are Pregnant or Breastfeeding - Do not take Echinacea during pregnancy.
References:
Barrett B, M.D., Ph.D. "Echinacea for Upper Respiratory Infectiion: An Assessment of Randomized Trials." HNR; Vol 7, No 3; pgs 211-217; Fall, 2000.
Bauer R. and Wagner H. "Echinacea Species as Potential Immunostimulatory Drugs." Economic and Medicinal Plant Research 5;243-321, 1991.
Burick J, et al. "Medical Attributes of Echinacea spp. – Coneflowers" Wilkes University; July, 1997.
Melchart D, et al. "Results of Five Randomized Studies on the Immunomodulatory Activity of Preparations of Echinacea." J Alt Comp Med. 1995;1(2):145-160.
Tyler V. "Herbs of Choice: The Therapeutic. use of Phytomedicinals." Binghamton, NY: Pharmaceutical Products Press; 1994.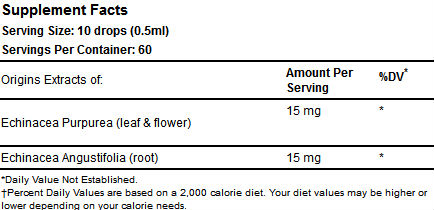 10 drops
Echinacea Purpurea (leaf & flower) 15 mg
Echinacea Angustifolia (root) 15 mg
*Daily Value Not Established.
†Percent Daily Values are based on a 2,000 calorie diet. Your diet values may be higher or lower depending on your calorie needs.
Other Ingredients: Deionized Water, Glycerin, Fructose and Natural Orange Oil.
ChildLife uses only the highest quality ingredients. Contains no eggs, fish, milk, peanuts, shellfish, soy, tree nuts, or wheat. No corn, yeast or alcohol. No artificial colorings. No artificial sweeteners. Gluten and Casein free.