Free Shipping On Orders Over $75
Availability:
In stock for online orders only (call before in store pick up)
WHOLE SCRIPTS Petadolex 50mg 50 Softgels
Product Information:
Santa Monica Homeopathic Pharmacy strives to maintain the most up-to-date information from research or studies on alternative and integrative medicine. Owned and operated by healthcare practitioners since 1944.
Description
Ingredients
Dosage
Size
Petadolex supports neurological health and helps your patients feel like themselves again.
Brain Health
Neurological Health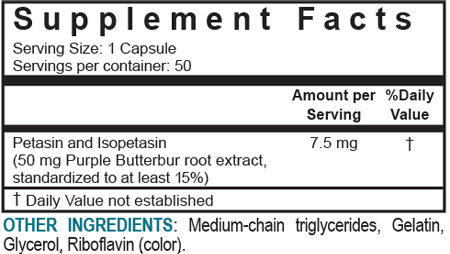 Adults take 1 capsule 3 times daily with meals. Children ages 10 to 12 years old take 1 capsule twice daily with meals, or as directed by a healthcare professional.
Caution

If you are pregnant or nursing a baby do not use this product.
Petadolex: 50 Capsules

We have well over 200 years of collective knowledge in modern
and alternative medicine. We help our client's
restore their health.